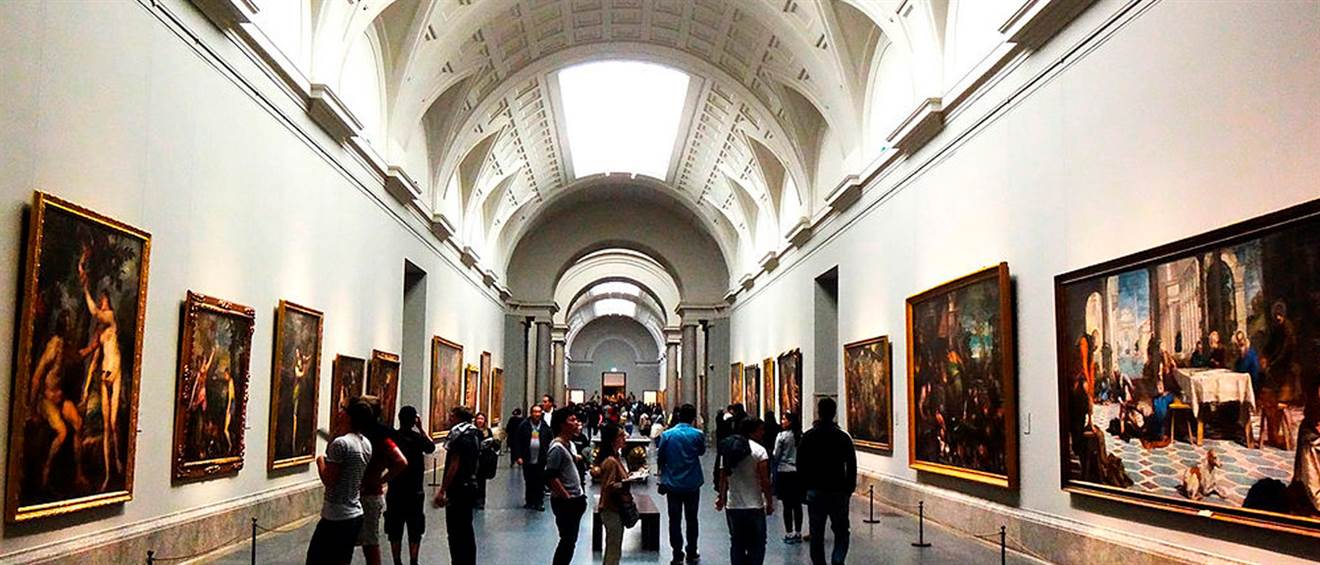 Prado Museum 'Skip the line'
To product
Discover one of the world's finest art collections!
The Museo del Prado offers you a mind blowing collection of paintings, some of the absolute gems of the art-world. The collection currently comprises around 7,600 paintings, 1,000 sculptures, 4,800 prints and 8,200 drawings, in addition to a large number of other works of art and historic documents. The best-known work on display at the museum is Las Meninas by Velázquez. Velázquez not only provided the Prado with his own works, but his keen eye and sensibility was also responsible for bringing much of the museum's fine collection of Italian masters to Spain. Definitely a must-see if you are visiting Madrid!
Audioguide option
To have information about the most important and well known paintings we recommend to add our audioguide to your booking. This application can be easily downloaded on your phone and consists of 28 items with a total duration of 45 minutes. Audioguide is available in English, French, German, Italian, Portuguese and Spanish.
Audioguide contains: 
• A great map of the Prado Museum itself
• Stories about the paintings and sculptures of Velázquez, Anthony van Dyck, Peter Paul Rubens and others
How does it work? 
The museum works with time slots. You will receive the ticket with the exact visit time, this will be the first time available in the time slot you have chosen.
Important to know:
Bring your earphones when going to the Prado Museum. The application can be downloaded on your phone and works offline. You do not need a Wifi connection or your mobile network to listen to the audioguide. Directly after your purchase you will receive the audioguide by email. We recommend to download it immediately so you are prepared when visiting the Prado Museum. 
Opening times:
Monday to Saturday: 10 am to 8 pm
Sunday and holidays: 10 am to 7 pm
Closed: January 1st, May 1st and December 25th
Special timetable: January 6th and December 24th and 31st: 10 am to 2 pm
Location:
Calle Ruiz de Alarcón, 23
Madrid 28014


Buy your tickets online and skip the long waiting line!
Important:
Children (under 18 years) do not have to purchase tickets and accompany adults who do have tickets.
 Tickets for the Prado Museum are non-refundable.
Pre-sale tickets for Museum Prado are also available in combination with the Madrid Art Walk Pass. With the Madrid Art Walk Pass you also get entrance to the 2 other great museums (Reina Sofia & Thyssen-Bornemisza) in the city. And best of all - you don't have to wait in the long waiting lines! The Madrid Art Walk Pass can be obtained at a very reasonable price of €34 and is valid until 6 months after purchase. Children under 12 years: free! Your Madrid Art Walk Pass must be exchanged at Museo Thyssen Bornemisza. Order your Madrid Art Walking Pass tickets by clicking here.